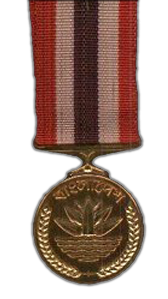 The Bir Sreshtho (Bengali:
বীরশ্রেষ্ঠ

) (The Most Valiant Hero)

The Bir Sreshtho is the highest military award of Bangladesh. It was awarded to seven freedom fighters who showed utmost bravery and died in action for their nation. Awarded by the Bangladesh Gazette 15 December, 1973.

We honor you from Our heart. This site is dedicated to you, You gave us freedom by sacrificing your life. May God Bless You.
Bangladesh Army
| Serial No. | ID Number & Rank | Name |
| --- | --- | --- |
| 1 | BSS-10439 Captain | Mohiuddin Jahangir (Shaheed) |
| 2 | 3943014 Sepoy | Hamidur Rahman (Shaheed) |
| 3 | 3937798 Sepoy | Mostafa Kamal ( Shaheed) |
| Serial No. | ID Number & Rank | Name |
| --- | --- | --- |
| 4 | 62066 Engineroom Artificer, Class-1 | Mohammad Ruhul Amin ( Shaheed) |
Bangladesh Air Force
| Serial No. | ID Number & Rank | Name |
| --- | --- | --- |
| 5 | Pak/4367 Flight Lieutenant | Matiur Rahman ( Shaheed) |
Bangladesh Rifles
| Serial No. | ID Number & Rank | Name |
| --- | --- | --- |
| 6 | Lance Naik | Munshi Abdur Rouf (EB-R, Shaheed) |
| 7 | 9459 Lance Naik | Lance Naik Nur Mohammad Sheikh (Shaheed) |